Duncanville
230 W. Hwy 67, Duncanville, TX 75137
(972) 298-2049
sunday
Dining Room:
11:00am – 9:00pm
Drive-Thru*:
11:00am – 9:00pm
mon – thur
Dining Room:
11:00am – 9:00pm
Drive-Thru*:
6:30am – 9:00pm
Breakfast**:
6:30am – 10:00am
friday
Dining Room:
11:00am – 10:00pm
Drive-Thru*:
6:30am – 10:00pm
Breakfast**:
6:30am – 10:00am
saturday
Dining Room:
11:00am – 10:00pm
Drive-Thru*:
11:00am – 10:00pm
*Drive-Thru closes every day from 10am to 11am
**Breakfast available Drive-Thru only.


Craving slow-smoked Bar-B-Q while you're on the go? We don't blame ya – it's the best stuff in town! So we made it easy to get your fix, To-Go. Just come down the road to get you some homemade breakfast on your way to work, a po-boy to take back to the office for lunch, or a delicious Bar-B-Q dinner packed with all the fixin's to take home to feed the whole family. Our friendly staff will make sure you can be in and
out with your order lickety-split!
Now we got another way to bring you yer delicious Bar-B-Q even easier than before! Just send us yer favorite Bar-B-Q order online and we'll have it pipin' hot and ready for you when you walk in the door. You can even pay online, too, so all you have to do when you pick up is grab yer bag and you'll be on yer way faster than you can say "Sweet Caroline!"


No one throws a Bar-B-Q bash quite like we do, so lasso up your friends and family for your next special occasion and get on over for a boot-stompin' good time! Our friendly staff will go whole hog to make sure y'all feel right at home and get to fill your bellies on our finger-lickin' scratch-made Bar-B-Q.
This location has 1 Party Room.


Banquet Room
1 of 1
Capacity: 50
Food and beverage minimums apply.
Round up the cowboys and cowgirls for some mouthwatering, finger-lickin' BBQ. We'll set up a private buffet and private room for y'all to feel right at home with our friendly, smiling, down-home staff, who will take great care of you and your Guests. Lasso up your group and we'll reserve a room for you!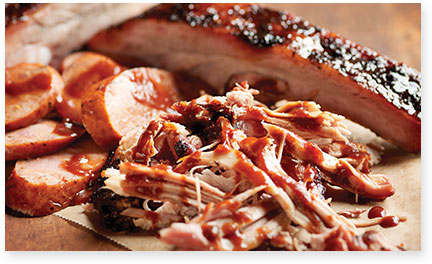 Menus
Pappas Bar-B-Q offers several menus for banquet events. Our menu plans include preset menus with per-guest prices. Buffet options may be available per location. Prices and menu options are subject to change without notice.
Table Arrangements
Tables in our private dining rooms may be arranged in a variety of ways to accommodate your event. Our manager can help you decide on the most attractive and effective arrangement for the nature and size of your occasion.
Decorations
Decorations are unavailable but guests are welcome to bring their own.
Guarantee
Menu confirmation and final guest headcount are due 2-3 business days prior to the scheduled event. Otherwise the guaranteed minimum listed on your contract will be considered the final count.
Deposits
No deposit is required.
Payment
We except cash payments, Visa, Mastercard, American Express, Discover and Diners Club. No separate checks, please. For your convenience, corporate accounts may also be arranged. Tax will be added to all parties.

Got a meeting, conference or special event? Real Texas Bar-B-Q will keep 'em all full and happy. Just give us a call, and we'll pack up our heaping helpin's of meat and all the fixin's and bring it all right to ya. Our friendly drivers will deliver and can even set everything up buffet-style in disposable tins to make cleanup a snap!
Order minimums apply.